Quotes

2016 Listening Room Festival Artists

2017 Concerts In Your Home Artist of the Year

"Beautiful rapport, judicious violin. Frechette and Thomsen maintain absolute harmony while jumping from genre to genre. Fascinating undertones and range. Phenomenal guitar playing. Prodigious players with songwriting that sets them apart." -Penguins Eggs
MP3's

New York City Sundance

Little Bird

Ragtime Baby
Recommendations from hosts (38)
October, 2021 - "Great to have Dan & Laurel back! The talent is just waiting to come out, we can pick up on their energy. Dan is quite the showman and incredible singer/guitarist as Laurel is his gentle partner adding her lovely violin and vocal harmonies. Hearing ...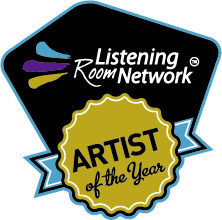 2017
---



Member since:

2014-06-10


Home:

Bonny Doon, CA, US


Frequently Tours:

US coasts, South, SW, Canada, Europe.


# of Members:

2


Sound Equipment:

Available if needed


Main Instrument:

Vocals, guitar, violin, harmonica


Other Instruments:

viola, mandolin, 12 string


Genre:

Lyrically refreshing and musically diverse Roots-Folk


Style:

Varied dynamic, fun and flowing.


Content:

Life, Love, Lessons, Humour.


Rating:

G - PG


Bio
Meeting in 2012 via a chance YouTube sighting and fueled by a once-in-a-lifetime musical chemistry and friendship, Canadian-American Roots-Folk duo Dan Frechette & Laurel Thomsen are "prodigious players with songwriting that sets them apart." Now touring in support of their recently released fourth album, Driving By Candlelight, they combine soaring violin, diverse guitar styles, compelling storytelling, a dash of harmonica and humor, and unique vocal rapport for a dynamic, engaging, polishe...